REGISTRATION CLOSED
In Ontario, a significant proportion of our electricity is generated using emissions-free nuclear power.
Come join us on our tour of the Darlington Nuclear Generating Station waste management facility and see firsthand how Ontario Power Generation safely manages used nuclear fuel, in a manner that protects both you and the environment.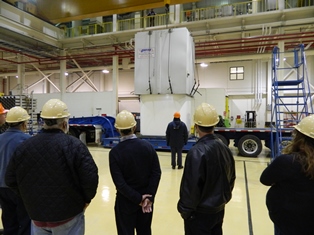 After the tour, the Nuclear Waste Management Organization will provide a briefing about Canada's plan for managing the used fuel over the very long term in a deep geological repository.
Program
7:30 AM, Departure (from Main Office at St. Clair & Yonge)
8:30 AM - 11:30 AM, Tour
11:30 AM - 12:30 PM, Return to Main Office
12:30 PM - 2:00 PM, Lunch and Briefing
This informative tour is not to be missed and you'll leave feeling better informed and more confident in the regulatory, environmental, safety and security regimes that keep us all safe.

Departure is at 7:30 AM from 22 St Clair Ave E, Lobby by shuttle.
Green P parking is available North of St. Clair Ave East. on Alvin Avenue.
Notes:
Cancellation policy: 5 days notice is required for all event cancellations. After that you will receive a refund only if we can sell your ticket to someone on the waitlist.
To join the waitlist email Chapter Manager
22 St Clair Ave E, Toronto, ON, Canada